MERCHANDISER REFRIGERATOR
Do you sell merchandise to the public? Offer your customers chilled drinks, fresh snacks, and delicious frozen dairy products with clean and professional merchandiser refrigerators with glass fronts. 
Our merchandiser cooler models display products to entice your customers with its clean shelves and long-lasting LED lighting system. Each refrigerator glass door is insulated, so it's 30% more energy efficient compared to our competitors. We also enable the grab-and-go capability for customers and staff, whether they're late for work or busy filling orders. 
Our upright and countertop beverage merchandisers come in a variety of widths and heights to fit into any space, including kiosks, so every business can increase profits, help staff quickly access available inventory, and provide customers with an enjoyable experience.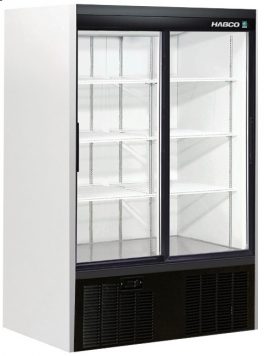 Width: 1207mm

Width: 47 1/2″

Cold Space™: 40

Depth: 788mm

Depth: 31″

Cooling Capacity: 3/8+hp

Height: 1845mm

Height: 72 5/8"

Ship Weight: 171kg

Ship Weight: 378lbs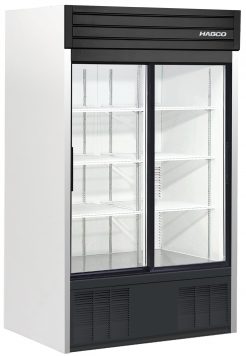 Width: 1207mm

Width: 47 1/2″

Cold Space™: 42

Depth: 788mm

Depth: 31″

Cooling Capacity: 1/4hp

Height: 1982mm

Height: 78"

Ship Weight: 190kg

Ship Weight: 418lbs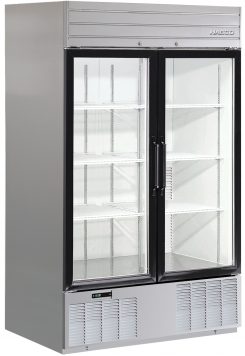 Width: 1207mm

Width: 47 1/2″

Cold Space™: 46

Depth: 788mm

Depth: 31″

Cooling Capacity: 7/16hp

Height: 1982mm

Height: 78"

Ship Weight: 189kg

Ship Weight: 416lbs
Refrigerators for Your Business Needs
HABCO® products are built to serve many industries. Restaurants will be able to keep food fresher for longer and help staff save time with assessing inventory. At grocery stores, convenience stores, and gas stations, our coolers will allow customers the agency to choose what they want with ease, whether it's frozen meals, ice cream treats, or travel-size soft drinks. Medical staff can immediately view and retrieve supplies in seconds, making our refrigerators ideal for emergency services. Find the right type of cooler for your business:
Lighted Top Sign Merchandisers
A customized merchandiser lets your customers make purchases while remembering your brand. HABCO® products are offered in standard industry sizes.
Full-Height Merchandisers
With optimal product visibility, see sales grow thanks to impulse buying. Food items and medical supplies won't expire as quickly because your staff can accurately record available stock, saving you money.
Countertop Merchandisers
Placing glass door countertop coolers at areas of purchase will help customers remember last-minute products while giving your sales a little boost.
Unique Premium Merchandiser Refrigerator Features
Set yourself apart from the competition by making your merchandiser refrigerator with glass door fronts genuinely unique. Now, you can fully customize your merchandiser fridge with our new customizer tool that allows you to add your logo, brand colour, or graphics! This tool will add value to your full-featured refrigerator or cooler with its lighted top sign. HABCO®'s refrigerators come with Cassette® refrigeration, optimal LED lighting, and smooth gliding or swing doors. 
Merchandising Freezers
Whether you own a grocery store or a convenience store, a HABCO® merchandiser freezer can accommodate your storage needs while proudly displaying your logo and brand.
Why Purchase a HABCO
®
Merchandiser Cooler?
Need the right coolers? Commercial businesses will benefit from HABCO®'s premium features, innovative designs, and commitment to sustainability. All of our snack and beverage merchandisers are built to be energy efficient and easy to maintain. Your customers will be dazzled by our glass door refrigeration, which increases the impulse buying experience. Upgrade your retail space with a professional and high-performance merchandiser fridge.
Interested to learn more about HABCO® Manufacturing cooling products? See all our
commercial refrigerator and freezer
options.